Expanding the EnterMode Community of Practice
Over the past months, the EnterMode partnership has made significant progress towards building up and expanding the EnterMode Community of Practice. Around 150 practitioners from both HEI institutions and companies have joined our online community in order to exchange their knowledge, experience and opinions on entrepreneurship education and the EnterMode approach.
Roughly 330 member contributions have been recorded to date, with a clear trend to more elaborated contributions and complex interactions, such as active participation in group discussions. The figure below shows the number of activities per topic. The figure clearly indicates that a large quantity of contributions relates to issues and problems emerging from the Covid19-related crisis. Questions in particular were raised about opportunities and challenges emerging with virtual internships, how virtual formats of internships can be implemented effectively, and how those formats change our definition of learning outcomes.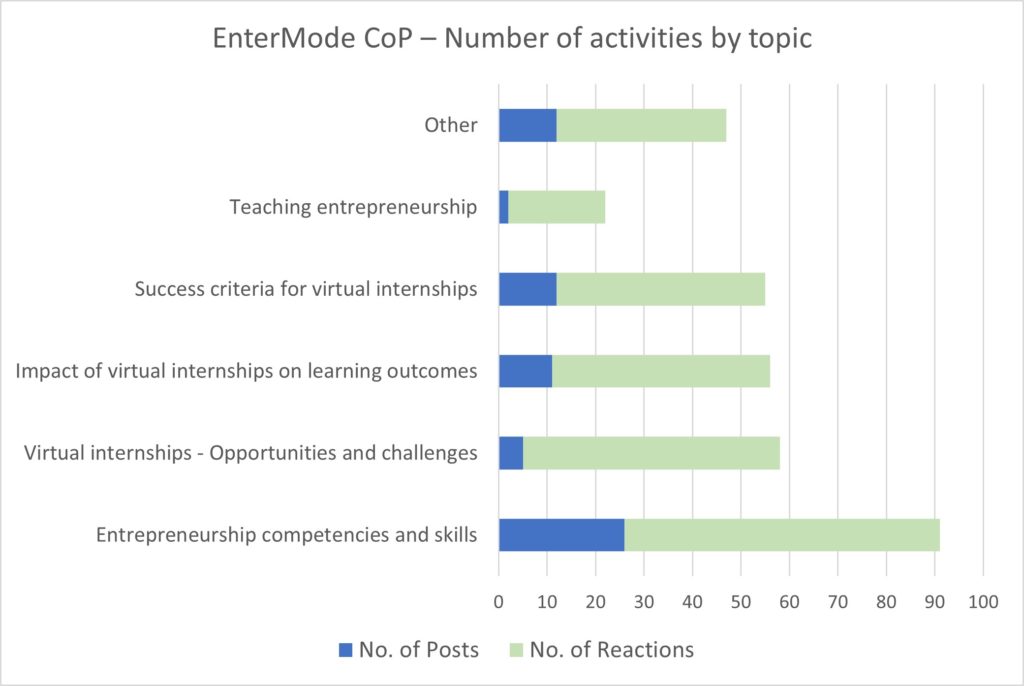 Moreover, the number of reactions to posts and discussions indicates that the topics are of great relevance for the community members. This is in particularly true for topics related to issues and problems associated with Covid19. Posts and discussions on this topic on average received 12 responses from other community members, followed by contributions on "teaching of entrepreneurship skills", which on average received 10 replies.
Last but not least, over the past few months the partnership managed to expand the geographical spread of members. While members during the initial phase were mainly recruited from the 8 countries represented in the partnership, members now spread over 24 countries, 80% of which are located within the European Union.
In order to become part of the EnterMode Community of Practice, 3 simple steps are needed:
Sign up/register, either by completing the registration form or logging in with your Facebook, LinkedIn or Twitter account
After successful registration, click on the EnterMode banner